PseudoPatient® is a unique, personalized approach that optimizes patient safety and treatment outcomes by contributing to measures that minimize the risk of side-effects during brain radiotherapy.
Our innovation allows for an integrated evaluation of all treatment processes via a patient-specific, anatomically-exact model of real patient's head and brain tissue. By applying all processes to the anatomically faithful replica, radiotherapy professionals can evaluate the whole treatment chain, identifying potential patient exposure to risk. 
The critical demands in cranial radiotherapy applications (SRS/SRT) for accuracy and precision are met for the first time by PseudoPatient®: a truly personalized and individualized pre-treatment verification service.
PseudoPatient® advanced technology is internationally patented, FDA 510(k) cleared and ISO13485 certified.
The PseudoPatient® can accommodate any type(s) of detector or detectors the end-user would like, placed at any designated locations within the brain. This allows dosimetry tailored to the user's needs and dosimeters availability. Placing detectors at designated locations also allows for dose measurements at the most dosimetrically demanding areas of the brain and the most critical clinical cases. In contrast, other commercially available solutions can accommodate inserts for dosimeters at limited pre-defined positions using selected dosimeters without any room for customizability/flexibility.
Patient-specific pre-treatment verification of all radiotherapy processes.
Unique value-adds of PseudoPatient® are for: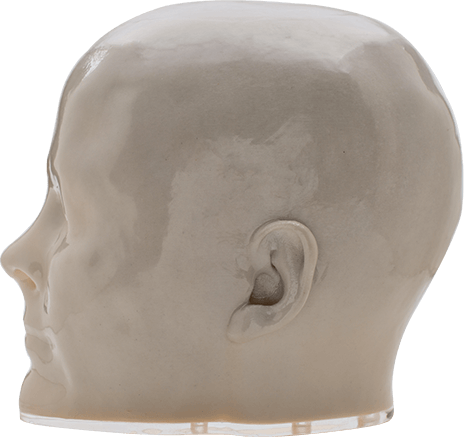 Patient Imaging
Send CT images to RTsafe
RTsafe 3D printed PseudoPatient
Ship to hospital
Treat as a Patient
Dose Validation
Report for Patients medical record
Patient Imaging
Send CT images to RTsafe
RTsafe 3D printed Pseudopatient
Ship to hospital
Treat as a patient
Dose validation
Report for medical records
PseudoPatient vs other approaches