RTsafe's PseudoPatient™ technology featured in Elekta Assurance solution
07
October 2019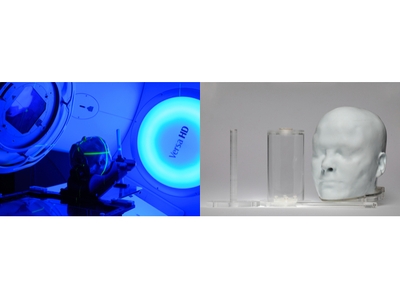 RTsafe, a medical technology company focused on improving the safety and accuracy of radiotherapy, today announced that Elekta is using RTsafe's PseudoPatient™ technology for End-to-End stereotactic quality assurance (QA) in the new Elekta Assurance solution, a complete suite of easy to use quality assurance tools, to deliver safe and efficient brain radiotherapy. The Elekta Assurance solution is vendor neutral and is shaped to provide quality assurance for any clinic.
RTsafe's PseudoPatient™ technology represents a new generation of dosimetry phantoms. Using a patient's CT-scan and leveraging 3D printing utilizing bone and soft tissue mimicking materials, RTsafe provides anatomically accurate head phantoms that replicate the shape and dimensions of the patient's head. The PseudoPatient phantoms are used by radiotherapy professionals to perform quality assurance and end-to-end testing of their SRS and SRT systems with a high-level of precision and accuracy. The phantoms provide confidence for SRS/SRT clinical use, high-resolution 3D dose verification and can also be used for routine End-to-End QA of complex radiotherapy treatments.
RTsafe is a medical technology company that has developed a unique approach to quality assurance that significantly enhances the safety and accuracy of radiotherapy for cancer and other medical conditions. It combines proven expertise in medical physics with highly accurate 3D printing technology to create anatomically accurate effigies enabling medical professionals to simulate treatment and plan more precise treatment interventions for each patient and help radiotherapy technology innovators to fine‐tune their products. The result is a more effective therapy and reduced patient risk. For more information, visit www.rt-safe.com.